Our Pastor & First Lady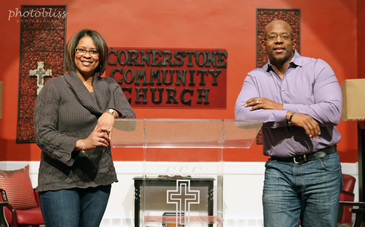 ​Sr. Pastor Ralph Graves Jr. and First Lady Christine Graves are influential leaders who have been called to serve with excellence and integrity. Throughout their 25 years of marriage, they have diligently worked alongside each other with the deepest love and respect for one another, as instructed by God in Ephesians 5:33.
Together, their passion and desire is to continue the impactful work that Jesus Christ started long ago … not just locally, but globally.
---
Sr. Pastor Ralph Graves Jr.

​Pastor Ralph D. Graves Jr. is a born again Christian and serves as Founder and Senior Pastor of Cornerstone Community Church in Millville NJ. Pastor Graves is an anointed, multi gifted Preacher of the Gospel, Motivational Speaker and Business Consultant. He is the Founder and Vice President of City's Hope Community Development Corporation.

Pastor Graves is the son of Bishop Ralph D. Graves Sr. He was raised in a Christian home and educated in the Christian school system. He continued his Christian education through schools such as Philadelphia Biblical University, The Center for Urban Theological Studies, and Covington Theological Seminary. In 2005, he obeyed the voice of the Lord and planted Cornerstone Community Church. In 2011, he retired as a Sergeant of Police after 20 years of dedicated service to the State of NJ.

Pastor Graves has been married to First Lady Christine for over twenty-five years. He and First Lady together have three children, two grandsons and one granddaughter.

---
First Lady Christine Graves

​First Lady Christine I. Graves is an inspirational woman of God who leads with wisdom and grace. Throughout her twenty-five years of marriage, she has diligently served alongside her husband, Sr. Pastor Ralph D. Graves Jr, with purpose and precision.

First Lady Graves is a graduate of the Helene Fuld College of Nursing and works as an R.N. in the labor and delivery unit, delivering babies and assisting families during the miracle of childbirth. She is continuing her education at Wilmington University. Community health concerns have been a priority of hers.

She is the Co-Founder and President of City's Hope Community Development Corporation, a non profit organization assisting inner cities throughout the country.

First Lady Graves' heart for women is made evident in her role as the Director of Women Equipped & Inspired (W.E.I). She boldly challenges women to serve as blessings in God's Kingdom, to their husbands, and their families. She is an insightful speaker that pulls from God's Word, tied in with her living testimony, to empower and encourage women to fulfill their God-given destinies.