Cornerstone Bible Institute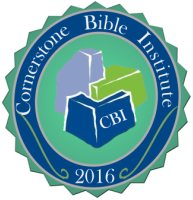 ​Educating students in the Bible and equipping them for ministry.
​Here are some of the benefits of attending the Cornerstone Bible Institute:

It empowers the great commission.
It aids the spiritual growth of the body of Christ.
It assist in discipleship and leadership training.
Small class instruction for optimal learning experience (only 7 students per class).​

​

Tuition Cost:
​
Enrollment is $145 (price includes registration and payment towards first 2 courses)

The total tuition for one full school year of studies is $645, which includes all 12 courses. Payment plans are available.
Next Semester Begins Jan. 16 2018. Registration is now closed.

If you have any questions call 856.765.5587 or email officeadmin@c3ecornerstone.net

Receive your diploma in Biblical Studies in as little as 12-months by successfully completing the following 12 courses:
​​1. Basic Bible Doctrine
2. Old Testament Survey 1
3. Old Testament Survey 2
4. New Testament Survey
5. Christ Our Sufficiency
6. Principles of Spiritual Growth
7. Character Development
8. Discipleship Training
9. Christian Warfare
10. Book of Revelation
11. God's Wonderful Promises
12. Spiritual Leadership
​
*Classes begin January 2018 and seating is limited.



These courses have been expertly prepared and organized to take a Believer from new convert to disciple to worker! Each course is accelerated therefore designed for busy people with busy schedules.

*Students who receive their diploma in Biblical Studies may continue on to year 2 and pursue their diploma in Advanced Biblical Studies